The Home of Sticky Toffee Pudding
Our Sticky Toffee Pudding range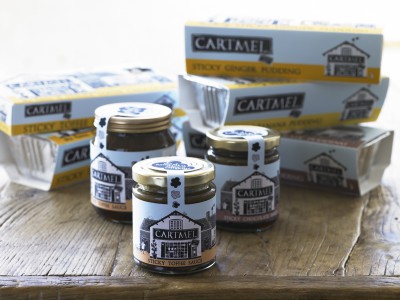 Our award winning Sticky Toffee Pudding remains number one with our fellow pudding lovers, although most people agree that all of our puddings taste great.
We enjoyed a great 2014 with the long hot summer making our Summer Fruit Puddings even more popular!
As we enter 2015 we are looking forward to an exciting year with some highlights that we will keep you updated with.
Drop by our shopping page, we often put special offers on which are only available to buy through our website. We have gift sets for Valentines Day, jars of sauces for Pancake Day, Mother's Day treats and that only takes us through to March. April will be the big chocolate month with Easter for us all to enjoy and indulge in some tasty treats, we are sure to come up with some other ideas for later in the year too, keep checking back with us.
If you want to keep up to date with what's happening here in Cartmel, follow us on on the social media – @cartmelsticky
---
Hand Made in the Lake District

We started baking Sticky Toffee puddings in the back kitchen of our Village Shop a good 20 years ago. Word soon got out and it seemed like everyone wanted some, so we had to move to a bigger kitchen. But however busy we are, it's still handmade, and there's still nothing to match it.
All our puds are made by hand from 100% natural ingredients. We still sell them in the our Cartmel Village Shop in the Lake District. But if you live a bit too far away to pay us a visit, you can also get them in independent fine food shops across the country, as well as in Booths, Selfridges, Waitrose, Harvey Nichols and Fortnum & Mason.
---
Buy online, in store or from your local shop

As well as our famous Sticky Toffee Pudding, we sell a range of yummy puddings, crumbles and sauces. You can buy our puddings and sauces online, in our village shop and from fine food shops and delis.
 Want to find your local stockist? Get in touch and we'll find it for you.